I Don't Give a Damn about my Bad Reputation
I Don't Give a Damn about my Bad Reputation is a documentary film, which aims to explore the role of women in rock and metal music history.  The title is cleverly used from the famous Joan Jett anthem as a stab at the unhealthy view of women in music.  In our modern time when women are still reportedly being groped at concerts, not being taken seriously, or struggling to find their way in the male dominated music world, Bad Reputation will provide insight from those involved and strives to provide a powerful representation for women breaking through.
Email: 
badreputationdoc@gmail.com
Facebook: https://www.facebook.com/BadReputationDocumentary/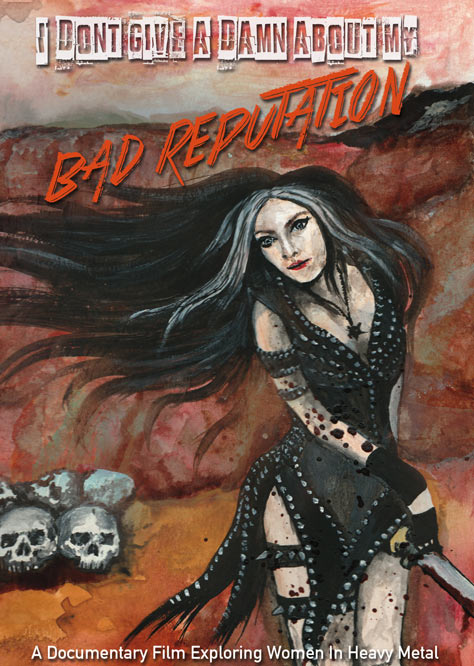 Bad Reputation film's artwork was hand drawn and painted by artist Laryiah Hayes of ViaOmega Magazine and metal band Khaotika. Look for the full artwork to be included on t-shirts, posters and more!
Atlanta based photographer and documentarian. Video directed, produced and edited the 2015 documentary film Atlanta Metal, which premiered in January 2015. Holds a Master's of Fine Art in Photography from Savannah College of Art and Design. Wrote thesis paper Dispossessed: Identity, Gender, and Acceptance in Metal Culture (available at Savannah College of Art and Design). Has been doing photography for 17 years. Recent clients have been Porsche, Savannah College of Art and Design, High Museum of Art, The Wieland Collection, Star Provisions, G.Gilbert, and many more. Short documentary film made for Porsche in summer of 2015. Music video production and editing for band Dead Register, and promotional photography for many bands including, Khaotika, Withered, Lazer Wulf, Seconds to Infinity, Die Sektor, and more. Shoots live performances consistently for metal blogs, Skulls N Bones.com and also Great Southern Brainfart.com.
SF Bay Area based Finnish Emmy (Venla) nominated director, cameraman, photographer, video editor and sound designer with 20 years experience in TV, Film and Web production. Recent clients include Rovio, Earth Networks, Warner Brothers, FOX, Solar Films, Idols, European Song Contest, Banijay Inc.. MTV3 Finland, YLE Finland, Channel 4 Finland and more.
Camera, editing, sound and directing the Finnish version of America's Funniest Homevideos for over 16 years. Local productions in California for 5 years, including music videos, live streaming events, theater sound and light and a feature-length documentary about Finnish metal bands in USA "Metal Syndrome" which premiered in Finland in 2015 and worldwide premiere in 2016.
Emily Harris – Director, Writer, Camera, and Main Protagonist
Metal Academics – Julian Skap, Amanda Kathleen, Andy Brown, Charlotte Nd, Olivia Lucas, Joan Singh, Kennet Granholm, Nelson Varas-Diaz
Other Involved in the scene – Fans, record labels, promoters, photographers, miscellaneous…
Bands- Doro Pesch, Lacuna Coil, Abinchova, Abnormality, Battlecross, Husbandry, Castrator, Dead Register, Today is the Day, Exmortus, Frantic Amber, Holy Moses, Insomnium, Entheos, Mordatorium, Inviolate, Candiria, Khaotika, Sorrowseed, Myrkur, Nervosa, Paricia's Patience, Hallow's Eve, Visions of Atlantis ….AND MANY MORE TO COME!